Our Philosophy:
Our philosophy is to provide services and products that will be efficient and effective. The customer's success is one and the same with our success. We will strive to maintain a relationship that will allow two-way communication and mutual growth. This can only be accomplished with the participation and knowledge of our staff.
Services are provided in many ways. These include product expertise, safety, research, delivery, technology, accuracy and many more. Not all services are important to all customers. With this in mind, it is our objective to work in conjunction with each customer to develop a plan of active services that will maximize our mutual ability to achieve our goals.
Products are in a continuous state of change and improvement. It is our responsibility to be aware of and communicate these to our customers. We are also committed to an ongoing program of training. This allows an understanding of the concepts needed to assure our products are safe and productive when they are put to use in the workplace.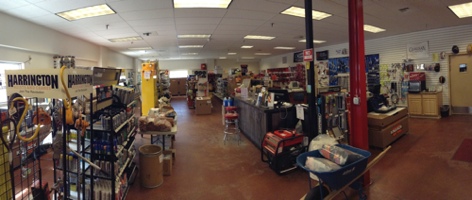 Communication within the relationship is the avenue to set objectives and plans needed to become more effective. Honest discussion about the customers' needs and goals can be incorporated with our ability to meet these objectives. Regular follow-up and discussion is important to evaluate and measure the success of these programs. Changes and adjustments are made as necessary. Flexibility and mutual respect are the foundation on which this is built.
Growth and profitability are the results of positive interaction between the supplier and thecustomer. This takes many forms, depending on the size and complexity of the customer's operation. Our ability to adapt to these different situations is the key to our success.
Our History
Northwest Industrial Supply was established in 1973 by Dick Dede and Lavar Thacker, to supply the Colstrip 1 and 2 generating stations. The original location was at 502 North 25th Street. In 1977, the company was moved when a larger location was purchased at 409 North 25th Street. In 1991 the company purchased and moved to the current 20,000 square foot facility at 1819 2nd Avenue North.
Our Missoula branch opened in 1987. In December of 2008, we moved it into a brand new 15,000 square foot facility at 8989 Roller Coaster Road. We can ship to any location from either outlet.

We employ 22 people and maintain a combined inventory in excess of 1.5 million dollars. Our inventory is diverse and supports the needs of many types of industry and construction. Northwest is affiliated with 14 other industrial and construction supply companies in nine states located in the northwest. Other affiliations with industrial pipe, valve and fitting companies allow us an expanded product base resource that can be very beneficial.
The company is established and well financed. Our abilities to grow and adapt are easily facilitated as opportunities arise.
Northwest Industrial has been computerized since our inception. Our current system is used in all aspects of our business and customer service. Our ability to offer solutions is enhanced by our ability to utilize current technology.
We have many types of customer relationships ranging from the traditional sale to the integrated methods prevalent in today's marketplace. We are flexible in meeting the customers needs.
Service is the cornerstone of our success. We have 5 customer service representatives who travel in designated areas providing sales assistance and delivery. Our in-house customer service is provided by 6 inside customer service representatives available on toll free phone lines. Electronic data interchange (EDI) is available upon request along with direct customer access (CDA) which allows customer access to our system and a more efficient means of doing business. Bar coding capabilities allow product to be received in the customers facility using electronic scanners to make the process faster and more accurate.
Through our history, we have been confronted with numerous changes in the industry. The end result is improved efficiency and the ability to provide each customer with a system adapted to their needs. We will continue to search for superior ways to help our customers.